Vivo V17 Pro Fast Performance
2 min read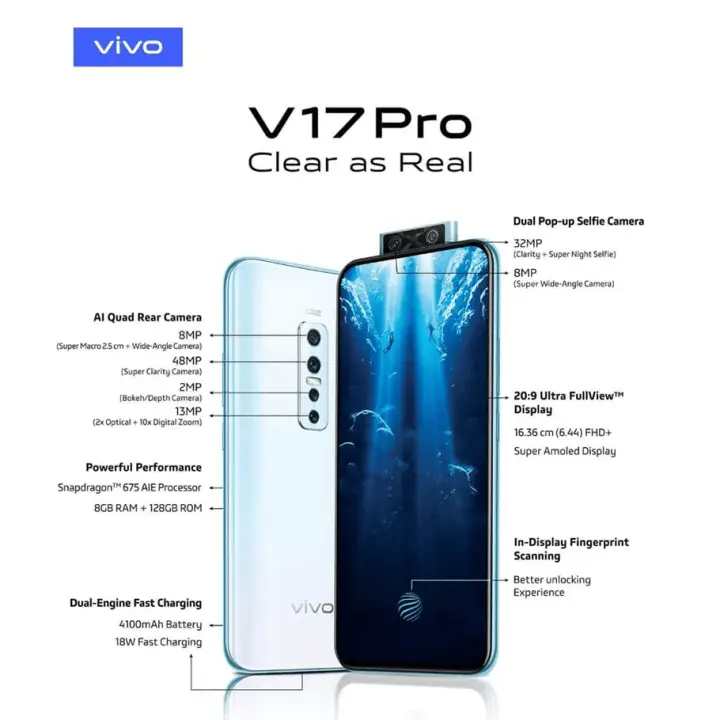 Vivo V17 Pro is already running the Android 9 Pie operating system in the latest Funtouch OS 9.1 interface, which has had several significant feature improvements, some of which are with a new high-tech GUI display and a dynamic mode supported by Snapdragon 675 AIE.
Long-lasting battery Vivo V17 Pro offers an advanced power management solution to make the user experience much more enjoyable. With a 4,100 mAh battery and Dual-Engine Fast Charging, charging the Vivo V17 Pro is faster and safer. In addition, there are nine layers of protection that will protect your battery in the charging process.
Pampering Gamers The Vivo Multi-Turbo feature is present to speed up and improve the performance of the Vivo V17 Pro so that it can reduce lagging by up to 78%. Vivo Multi-Turbo carries 5 mainstay features, namely Center Turbo, Turbo Net, AI Turbo, Cooling Turbo, and Game Turbo. The Center Turbo feature focuses on reducing sluggish operation by up to 200%. Turbo Net maintains data speed by optimizing internet connection. AI Turbo allocates resources intelligently to ensure applications run faster. Cooling Turbo functions to cool the device. Meanwhile Game Turbo is updated with advanced optimizations and access to the SDK for PUBG Mobile and Mobile Legend.
Multi-Turbo also has a touch control feature that will respond to any touch or movement quickly, giving it an advantage in speed when playing games. Also present is the Game Center to collect game data in one place and provide a more immersive gaming experience. User can check information about CPU and phone temperature or data workload quickly in Game Center. Collaborating with Ultra Game Mode, this feature will turn off messages or notifications, so gamers can play with more focus.